Why should I accept credit cards?
Millions of cards carried in the U.S. by people who take their cards where ever they go - to the mall, on vacation, to the post office, out to eat, to the dentist and surfing the Internet. These consumers enjoy the convenience, the flexibility and the security credit cards cards offer.

For years, card acceptance has been expected at places like retail stores, hotels, restaurants and airlines. But today, consumers expect to be able to use their cards for a much broader range of products and services, including health care services, groceries, tuition payments, movie tickets and recurring payments such as cable or utility bills. And the list will only continue to grow.
As a result, businesses who accept cards are not only gaining more customers, they are gaining more loyal customers and customers who spend more. In addition, these merchants and service providers are gaining real bottom line benefits for their business.
Credit cards acceptance offers your business a wide range of benefits in terms of reduced operating costs and increased profitability, including:
Increased Sales
Consumers can take advantage of specials, stock-up on the products and services they need most, and in the case of health care services, obtain treatment when it's needed.
Faster Payment
With credit card transactions, you receive payment within 24-72 hours, improving your cash flow.
Reduced Costs
You can save time on the management of billing, sending statements and tracking receivables, reducing your overhead and related expenses.
Fewer Processing Problems
Reducing the number of checks you take in diminishes the likelihood of problems resulting from processing checks. So you'll avoid redeposit fees and the cost of processing additional transactions.
Improved Customer Service
Consumers enjoy the speed, convenience and payment flexibility that cards provide. Card acceptance lets you accommodate these consumers and offer increased payment options with monthly, quarterly or semiannual billings.
Plus, we offer specific programs and materials targeted exclusively for your industry.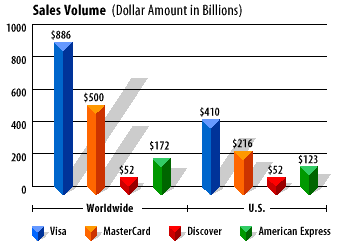 The Internet is certainly the future of shopping, and it's here today. We have been helping merchants do e-commerce since 1994. We offer all the available Internet Gateways and we are compatible with ALL shopping cart and e-commerce solutions. So if you're stuck in some bundled e-commerce package, you can still get the lowest price merchant account with us. For example, we are 100% Yahoo Store compatible, get the store there, get the lowest cost merchant account here.
How can I start to accept credit cards from my customers?
Our program allows almost any merchant that has not had a prior termination for wrongful activities to accept credit cards. Click here to start to accept credit cards
(Sources: Visa Systems Panel Study, June 1996, Visa Quarterly Statistics,
June 1996, Visa Business Research and Reporting January 1996)